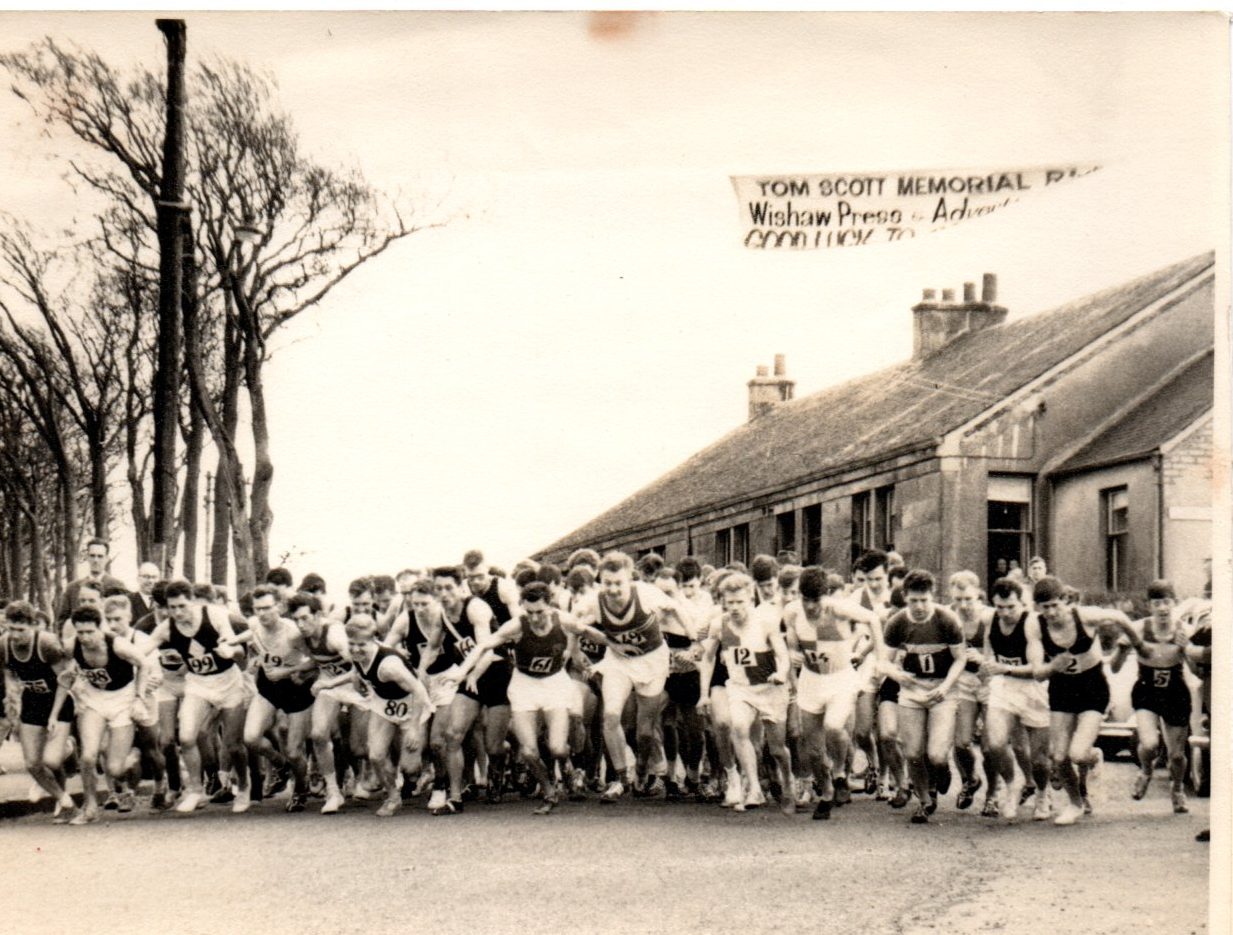 The start of the first ever Tom Scott 10 Miles Road Race
Runners from the recent past, and those who have read and thought about Scottish endurance running, are at least mildly critical of the current programme of races offered to athletes by governing bodies and race/championship organisers. It takes only a cursory look at the winter programme for any year in the 1960's (or the 1970's or the 1980's) to see that there were cycles of competition where the importance of the events gradually increased, leading the athletes to more and more intense effort and gradually rising standards of performance. Indeed there were cycles inside cycles.
For instance, September was pretty well a fallow month as far as competition was concerned and was followed by the short relays (each runner in a four-man team raced two and a half miles). Road runners spent September (and October) developing a bit more pace, while the half milers and milers were gradually building in a bit of strength. There were four relays in the sequence – McAndrew (road), and three cross-country ones – County, District and (from 1974) National, with a couple of weeks (perhaps including five mile road races like the Allan Scally Relay or the Glasgow University 5) to prepare for the prestigious 8-Man Edinburgh to Glasgow Road Relay (with stages ranging from 4 miles to 7 miles). That was one cycle. Then the runners went in to the cross-country championships proper – County then District then National, then, if you were ambitious and talented, the English National, then the International. Another cycle. Put the relay cycle and the championships cycle together and that was the winter cycle It all made sense.
The same was true of the summer season where there was gradually increasing distance and severity in the races leading up via 10, 12, 14, 15, 18, and 20 miles to the marathon itself. That was the one cycle. Then there were the highland games and sports meetings where the races were all different and it was almost refreshing to run the 20 miles at Strathallan or the 14 at Shotts with the fearful climb up past Kirk o'Shotts.
There was a definite pattern, where the aim was clearly to assist athletes to reach a peak when it mattered; and to raise the standard of Scottish road and endurance running (which could be track 5000m or 10,000m too) across the board. For example, if there were no 20 mile races, then a member of the Scottish Marathon Club would approach the promoter of a meeting which had a road race and offer to help organise a race at that distance. I say 'a member of the SMC' but many of the committee were also members of the SAAA with Dunky Wright being the prime example.
In addition a platform was given to these events where the public could see the road runners in action. The SAAA Marathon was held from the actual track and field event championships – after all they were bona fide athletes just like the hurdlers and hammer throwers. The event has now been relegated to a bit part in a massive road race organised more often than not with the prime object of maximising the number of participants. There was the ludicrous instance for some years of the Scottish national championship being held in England.
However, the pattern was set for the runners who could use it and there were also many other distances, mainly on the road, that could be fitted in to a runner's schedule to help him tweak whatever aspect of his fitness needed a bit more attention at a particular time. For instance Allister Hutton used to run in the Dunky Wright 5 miles+ in April as part of his programme leading to the London Marathon. Enough discussion – it helps to see how a good Scottish runner, who usually managed to peak when it counted, shaped his year.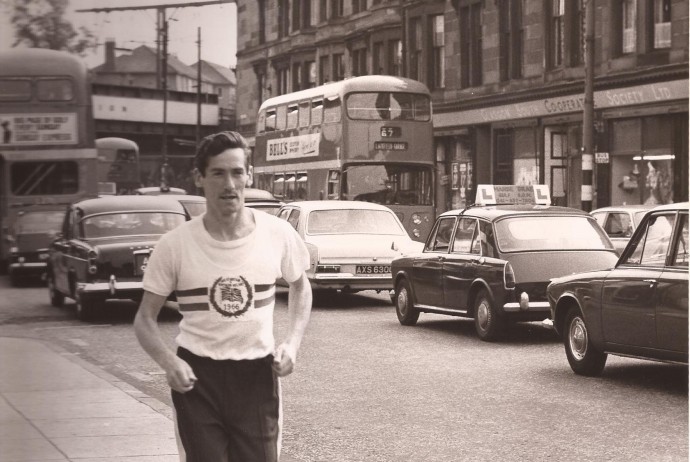 Lachie Stewart running to work in 1970. Many, possibly most, road runners ran to work and back again
_______________________________________________________________________________________________________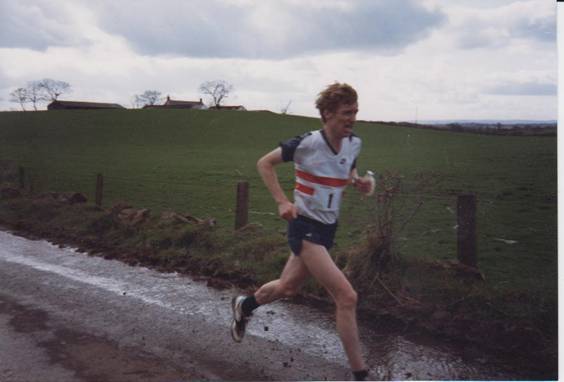 Back in the 1970s, nearly every road-running Scot was male. [SAAA, SCCU and SWCCU rules did not allow men and women to race together. The only time they might see each other racing was during the SAAA/SWAAA Track and Field Championships – and then only in separate events.] After the advent of City Marathons (starting with Aberdeen in September 1979) could take part in the same races. (The developing Veteran scene was also important in allowing men and women to compete together on the roads.)
Any road-racing specialist would train on a variety of surfaces – track, grass, trails and hills as well as tarmac. In addition, he would almost certainly race on track and cross-country as well as road. Nevertheless, the Road Running Year provided a calendar of events, which allowed the athlete to increase fitness gradually, before peaking for major races like the Tom Scott 10, Scottish Marathon Championship, the Two Bridges 36 and the Edinburgh to Glasgow Road Relay.
The very top road runners had the organisation of their year down to T. It might be of course that that was the difference between the real top men and the 'nearly top men'. I remember after the Shotts race was won by one of the latter, asking one of the former how he felt about defeat and he replied that the winner 'never won when it mattered.' In other words he couldn't peak for the year's important competitions. Another very good non-championship medal winning athlete was racing quite a lot at one point and when I asked him why his reply was something like, "Well, when you're running fast and you don't know why, you have to make the most of it."
One of our best endurance runners who had success on all surfaces – track and country but especially road – at all age levels is Colin Youngson and we asked him to discuss and explain his racing year and how it was planned.
For example, his best year was 1975 when, representing Edinburgh Southern Harriers, he was training 70 or 80 miles per week and did not suffer injury. No fewer than 24 races were completed that year, and he did peak successfully for the Scottish Marathon and E to G, as well as producing decent performances on cross-country, middle-distance track and (without extra training) the Two Bridges. At the end of such a busy season, he was delighted to be presented with the SAAA Donald McNab Robertson Trophy (for Best Scottish Road Runner of the Year).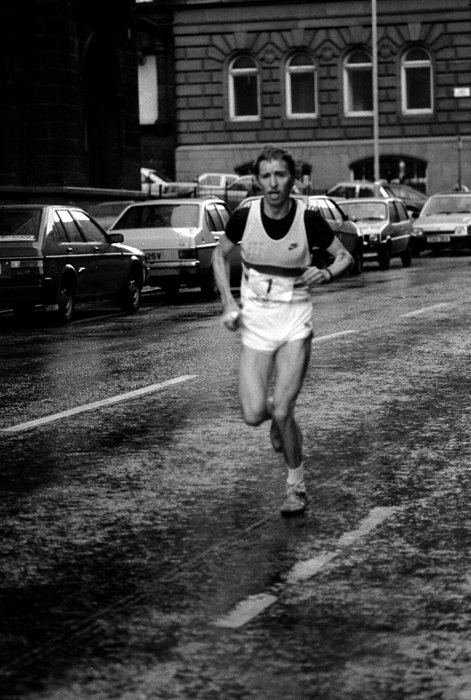 Colin finishing the last stage of the 1986 E to G, which his team Aberdeen AAC won.
Here is a list of his 1974-1975 races, with road races in bold. He himself takes over the story:
"The Road Running Year may be said to start (or in the case of marathons, end) around 1st October. In June 1974, I returned to Scotland after ten months teaching English as a foreign language in Sweden. There, I was slowly improving as a runner, despite having to do all training on my own in a flat part of the country. The opposition, apart from a few tough athletes, was nothing like as strong as in Scotland, let alone Finland and England. My marathon personal best was 2.22.28.
Having reached my home city of Aberdeen in early June, I raced the Scottish Marathon on the 22nd, finishing a tired third (2.21.36). By mid-August, I had moved to hilly Edinburgh, started teaching English at Craigmount High School, had become a member of Edinburgh Southern Harriers, and proper 70 to 80 miles a week training had resumed, including Sunday Runs (16 to 25 miles), hill reps and long and short interval work with a number of good runners. How would this fresh regime affect my speed and stamina?
On 25th August 1974, in a slow time, I won a very windy Scottish 10 Miles Track title at Meadowbank. On September 28th came the first road running fixture of the Winter season: the ESH Fernieside Relays. Our team won, I posted the fastest time – and it was the only occasion that my brilliant young clubmate Allister Hutton let me finish a few seconds in front of him.
5th October: We finished second to Edinburgh Athletic Club in the McAndrew Road Relay in Glasgow. I was third-fastest behind Andy McKean and Gareth Bryan Jones.
19th October: Kingsway Relays, Dundee. ESH first team. I was third-fastest behind Alister Blamire and Craig Douglas.
26/10/74: Harlow Marathon, Essex. 8th. Although I chipped a few seconds off my pb with 2.21.06, I was disappointed not to get closer to the 2.20 mark.
16/11/74: Delighted to come home first (outsprinting Willie Day due to the uphill finish) on Stage One of the Edinburgh to Glasgow Road Relay. ESH won this legendary race after a very close battle with EAC.
23/11/74: ESH third in the Scottish XC Relay. I took over third and finished there but felt a bit stale.
7/12/74: A poor run on a bumpy, muddy course during the SCCU v SU v Northern Ireland contest.
There was absolutely no doubt that running on the road suited me best. What would 1975 bring? Could this new training regime allow me to build up for important races and produce new pbs for 10.000m, 10 miles and, especially, the Scottish Marathon Championship?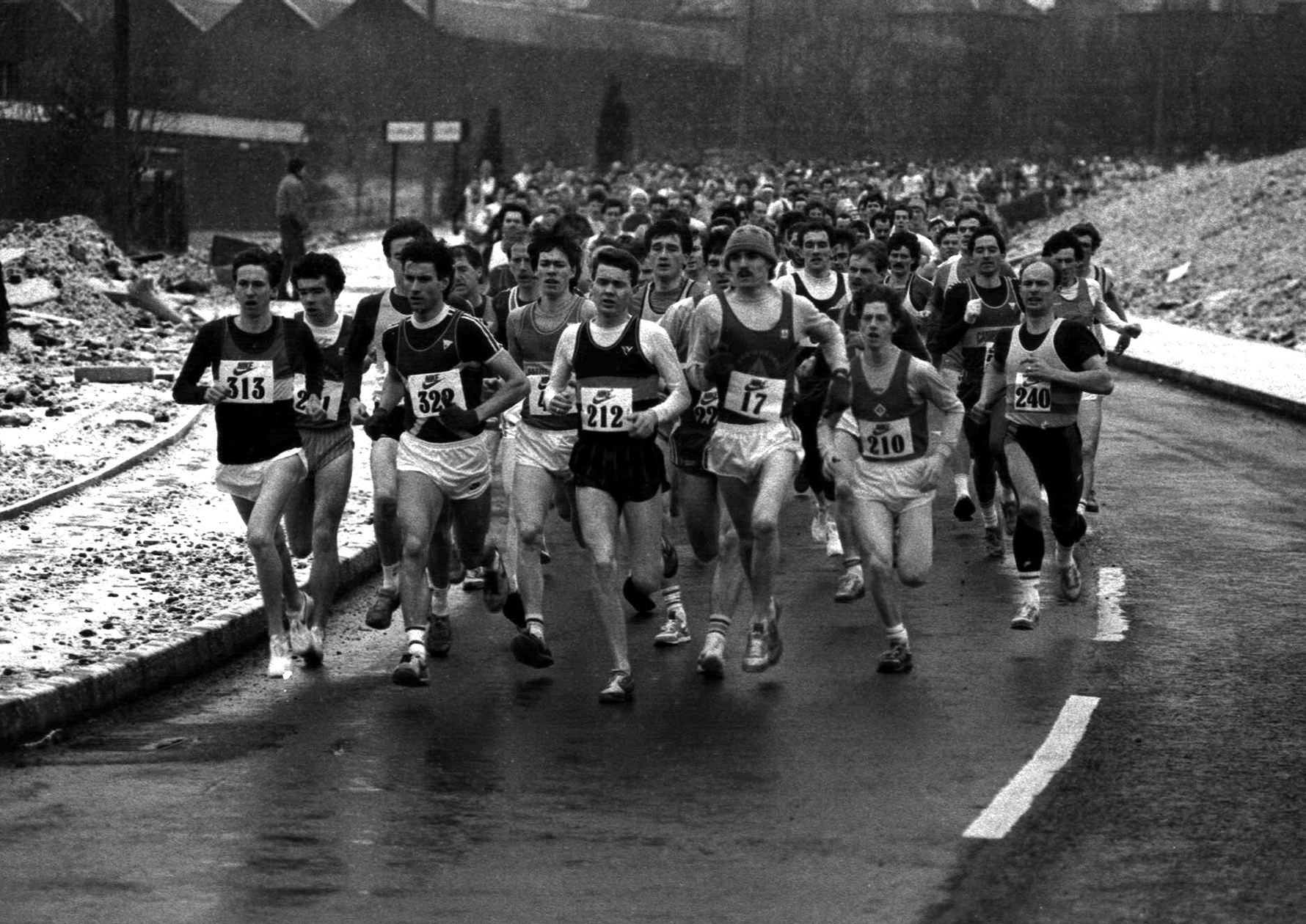 Nigel Barge Road Race, 1984
There followed four weeks hard training, totalling: 71 miles, 80, 100 and 80, leading up to the first race of 1975.
4th January – Nigel Barge Memorial 4 and a half mile race, Glasgow – 4th.
12th January – East District Cross Country League (final race), Livingston. 6th. ESH won team title.
18th January – East District CC Championships, Fernieside, Edinburgh. 4th. ESH first team.
5th February – Scottish National CC Championships, Coatbridge. 19th. ESH second team.
1st March – Edinburgh University 10 mile road race. Third. ESH first team.
5th April. After release from hospital (for a minor face operation) a poor run in the Tom Scott 10. Only 20th, but got fit again surprisingly fast.
26th April – AAA National 12-Stage Road Relay, Sutton Coldfield. ESH second team against the cream of English clubs. I was third-fastest on the short stage – a hilly 3 miles 100 yards in 14.16.
3rd May – Scottish Athletics League, Division One, Meadowbank, Edinburgh. 5000m (B race): 1st in 14.32.
10th May – SAAA Ten Mile Track Championship, Carluke. 2nd in a lifetime best 49.00.8.
17th May – Drymen to Scotstoun 15 mile road race (Glasgow Highland Games). 1st.
.31st May – East District 10,000m at Meadowbank. Second in a lifetime best 29.33.4. This very hard run led to selection for Scotland v Iceland 10,000m.
8th June – Pye Gold Cup 5000m, Meadowbank. 1st in 14.37.6 (despite fall on first lap).
28th June – Scottish Marathon Championship, Meadowbank. Won in 2.16.50 (Championship Best Performance). Best race ever. Led to selection for a GB two-man team in an International Marathon.
29th June – ESH (unsuccessful) attempt on 100 x One Mile world track record, Meadowbank. 4.29 mile, the day after the marathon. (A long warm-up was essential.)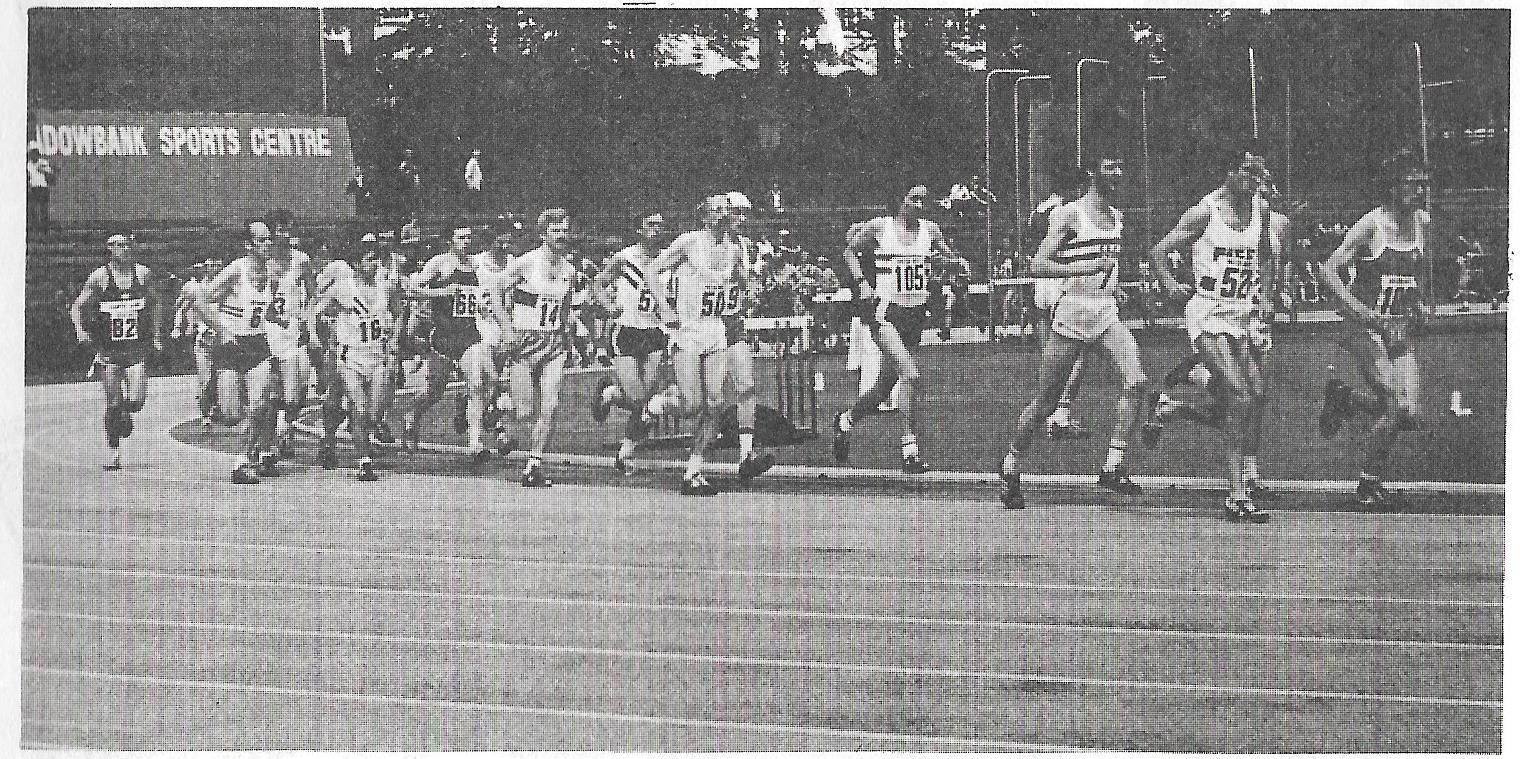 Scottish Marathon leaving Meadowbank Stadium, 1981. Colin Youngson leads (and won).
5th July – Forres Highland Games. Ten Miles. CY 1st.
19th August – Scotland v Iceland Athletics match in Reykjavik. 10,000m: second to team-mate Allister Hutton.
23rd August – Two Bridges Race, Dunfermline. 36 miles 158 yards. Second in 3.29.44, almost three minutes behind Cavin Woodward (World number one ultra-marathon runner that year.) This run probably clinched the Robertson Trophy award.
Friday 12th September – 6th Internationale Berchem Marathon, Antwerp, Belgium. Second, 17 seconds behind Danny McDaid (Eire), with GB team-mate Max Coleby just 9 seconds further back. We beat the Irish on countback as well as several Continental pairings.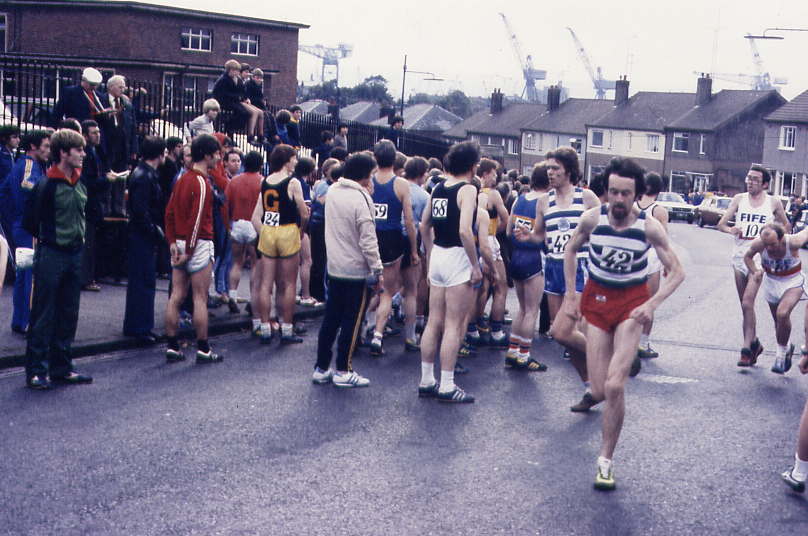 McAndrew Relay changeover, 1979,
4th October – McAndrew Road Relay, Scotstoun, Glasgow. 6th fastest. ESH won.
12th October – Coatbridge 5: fifth in a classy field.
25th October – Allan Scally Road Relay, Baillieston, Glasgow. 6th fastest. ESH won in a new course record 90.45.
8th November – Glasgow University 5 miles road race. 3rd in a PB 24.57.
15th November – Edinburgh to Glasgow Road Relay. 1st ESH 3.33.32 (new course record). I set a new Stage One record of 26.00. Second-best ever run.
29th November – International Cross-Country, Gateshead Riverside Bowl. Scotland (1st team) v England v Rest of World v Gateshead Harriers. Reality check! Horrible circuit with vicious little anaerobic hills. Ended up 27th ex 32, in front of two Scottish team-mates.
(N.B. After such an outstanding year, Colin trained too hard (100 miles per week), got sciatica, had to reduce mileage and was never quite as good again, although between 1977 and 1985 he ran eight more sub 2.20 marathons and had a long, often successful career as a Veteran/Master up to the age of 70.)
Comments on 1975
Important training ingredients included: long fairly hard Sunday runs; speedwork (short and long repetitions plus hill sessions, short road relays, 5000m races); easier, recovery training runs; track 10,000m events (there very were few road 10ks back then); cross-country; ten and 15 mile road races. This produced fitness for a fast, competitive marathon and the stamina to complete 36 miles steadily before finishing strongly."
What other possible races featured in the calendar?
(The Scottish Marathon Club provided an excellent fixture list.)
(Originally 13.6 miles but this was changed to 14.1 miles in 1983.)
Month
Race
Distance
Month
Race
Distance
January 1st
Morpeth to Newcastle
originally 13.6 now14.1
March
Balloch – Clydebank
12
District CC Championships
6 miles
Clydesdale Harriers Road Race
5+
Springburn Cup
5+
Fife AC Race
End of January
Scottish Inter-Counties CC Championships
Scottish 6 Stage Relay
6 or 3 miles.
Month
Race
Distance
Venue
Month
Race
Distance
April
ESH
Club 10
Edinburgh
May
District Champs
10
000..
Renfrewshire
10
Greenock
Edinburgh to North Berwick
21.8 miles.
Glen Nevis Race
10
Fort William
Gourock HG
14 miles
Clydebank to Helensburgh
16 miles
Strathkelvin Half Marathon
13.1
| Month | Race | Distance | Month | Race | Distance |
| --- | --- | --- | --- | --- | --- |
| June | Bearsden Highland Games | 10 | July | .Perth to Dundee | 22 |
| | Lesmahagow HG | 13 | | Carluke HG | 10 Miles |
Month
Race
Distance
Month
Race
Distance
August
Cambuslang Harriers
10 Miles
September
Shotts Highland Games
14
Strathallan HG
14
Dunblane Highland Games
14
Bute Highland Games
10 Miles. 18 miles in the 60s lowered to 10
Livingston road race
Cowal Highland Games
ESH road relay
Then it was back to the winter cycle of
October: McAndrew Relay
Mid-October: the Kingsway road relay in Dundee
End of October, the Scottish CC Relays.
Early November, the District CC Relays.
In format
Early December, County CC Champs.
SCCU v Scottish Universities.
East Kilbride road races.
Queen's Drive road race, Edinburgh.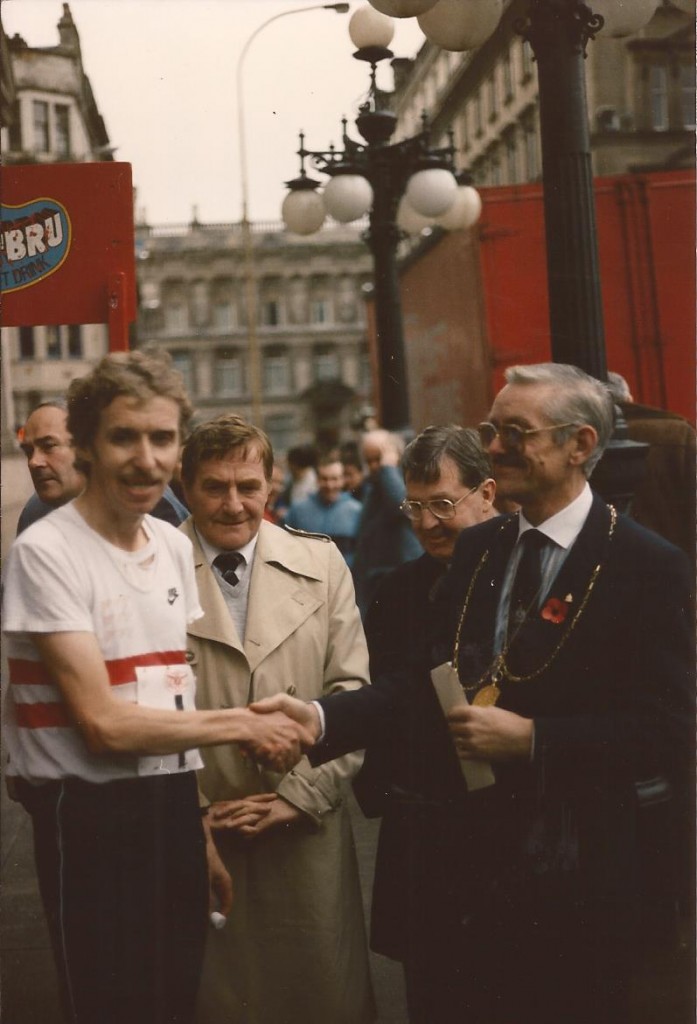 Colin being congratulated by the Lord Provost in Glasgow after finishing the last stage of the Edinburgh to Glasgow Relay for the winning Aberdeen AAC team in 1988
The outline is clear and then you can see the races that Colin added in to trim and tweak his progress through the year. For instance in May he added the tough Drymen to Scotstoun race instead of the quicker Gourock HG 14 miles. At the end of May and the start of June he fitted in a 10,000m on the track followed by the even shorter and quicker 5000m on the track in the lead in to the fast-paced marathon. Without labouring the point too much, the season now is a bit different.
First, there is a proliferation of 10K road races. No one in the governing body is tasked with asking some of these organisers to alter the distance of their race to help the runners in their preparation for the major championships. Instead, the governing body dishes out permits to all who want them – or maybe they have completely stopped trying to control the flow of races by permits or by any other method.
Second, there does not seem to be any concern about races being dropped from the programme. For example, the Strathallan 20 became the Strathallan 14, then the Strathallan 10 before being dropped; other races such as the Dunky Wright 5K have just been dropped. No one has enquired of the organisers why these events have been dropped or offered to assist in their restoration. It is impossible to imagine such as Jimmy Scott or Dunky Wright not acting. The road racing scene seriously needs examining by the governing body.
The Scottish marathon championship is now run as part of a mass marathon – the last five have been enmeshed in the Inverness, London and Stirling marathons. These in no way resemble a marathon championship race. For two years it was not even run in Scotland. It is a proper Scottish championship and should be treated as such rather than as an add-on to a glorified fund raising exercise.
The last five championships have been run on 27th September 2015, 24/4/2016, 23/4/2017, 29/4/18 and 28/4/2019. How can any serious marathon runner build up to a peak for the very start of the season?
The once excellent Scottish endurance running organisation has been deprived of the proper stepping stones to success, as used by such as Colin, Donald Macgregor, Fergus Murray and all the other genuine national marathon heroes.